Fuel-Efficient Ford
for Sale near Teays Valley, WV
Whether you're looking to mitigate gas costs or ditch fuel altogether, the Ford brand offers West Virginia Ford drivers various ways to save at the pump. The most fuel-efficient Ford for sale is the 2022 Escape Hybrid, but that's just one of many eco-friendly vehicles we have available at our Ford dealerships near Teays Valley. Buy a hybrid SUV at Todd Judy Ford East or reserve a new EV at Todd Judy Ford Charleston, as we have endless opportunities waiting for you!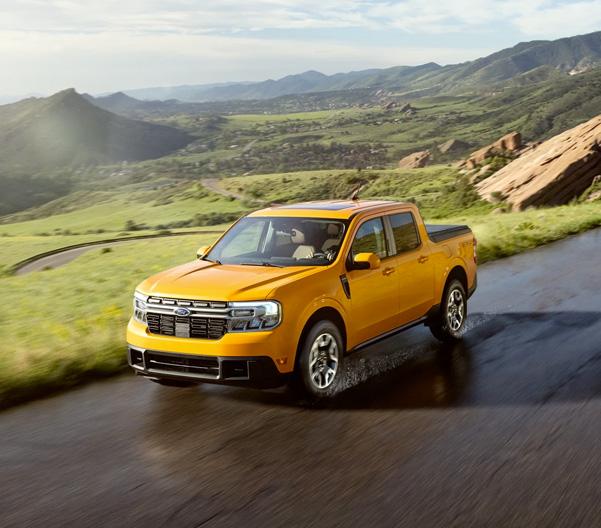 What Are the Ford MPG Ratings?
| Ford Model | EPA-Estimated Highway Fuel Economy |
| --- | --- |
| 2022 Ford Escape Hybrid | 37 |
| 2022 Ford Escape | 34 |
| 2022 Ford Maverick | 33 |
| 2022 Ford EcoSport | 29 |
| 2022 Ford Bronco Sport | 28 |
| 2022 Ford Explorer | 28 |
| 2022 Ford Explorer Hybrid | 28 |
| 2022 Ford Edge | 28 |
| 2022 Ford Ranger | 26 |
| 2022 Ford F-150 | 25 |
New Fuel-Efficient Ford in Charleston, WV
Save on gas without sacrificing the essentials you value in a new Ford model by visiting either of our West Virginia Ford dealership locations. The new Escape Hybrid, Escape and Maverick all offer more than 30 highway mpg, giving you a vehicle that's ideal for any WV road trip. Looking to compare Ford Explorer vs. Explorer Hybrid mpg ratings? Want to check out the 2022 EcoSport, Edge and Bronco Sport specs with a team member? No matter which option you choose, you'll be getting the keys to a fuel-efficient Ford SUV that's built to last. Plus, with new trucks with good gas mileage like the Ranger and F-150, you'll have an easy time finding a companion for the jobsite.
Ford Hybrid MPG Ratings & EV Range
Take your driving experience to the next level at the helm of a new Ford EV, for sale near Teays Valley. The 2022 Ford Mustang Mach-E range can reach 314 miles when fully charged, while its top speed capabilities can be traced to the Mustang sports car lineage. Searching for a commercial EV truck or van? The new Ford F-150 Lightning is a great option, as it offers a maximum range of up to 320 miles, as well as exceptional towing. We also have new Ford E-Transit commercial options available, so come chat with our Charleston auto sales team for more details on Ford hybrids and electric vehicles.
Charleston Ford fans who are in the market for a vehicle that's great on gas can contact Todd Judy Family Dealerships. We'll show you the Ford hybrid truck or SUV that's best for you, answer all your questions on EV charging stations nearby and provide a detailed breakdown of the 2022 Ford mpg ratings.